Welcome to EDDi
:
a
fortnightly
summary of research-based educational insight.
---
EDDi is designed to keep you up-to-date with current research and best practice - with a heavy focus on international education.
Alongside opinion pieces, practical teaching advice and leadership guidance, we distill lengthy peer-reviewed and published academic articles (each article we read often running to 8,000 words), giving you the key highlights and takeaways.
What it takes us hours to digest each week, you can read in 20 minutes.
Collated and edited by a team of experienced international school leaders and university academic staff, EDDi gives you access to vital educational research.
---
---
Each edition of EDDi offers:



1. A carefully curated SELECTION of opinion pieces, practical advice and 3-4 peer-reviewed research articles, news and opinion.
2. An expert SUMMARY of each piece. Our aim is less than 1,000 words per article. That's a 5 minute read per article - and, you won't be reading every article every week, just those which interest you.
We also publish 'EDDi Extras' (example here), occasional Special Editions (example here), thought-provoking opinion pieces (example here) and share interesting podcasts (listen here).
---
---
Why EDDi
Time
You probably have very little of it.
Certainly, as a busy professional, you are unlikely to have time to read through academic journals, multiple news sources and a range of academic blogs.
EDDi saves you that time.
Every fortnight you receive a digest of contemporary (and occasionally classic) research on international education.
Each edition will include a summary of 3-4 published academic articles, a thought piece and something specifically related to classroom practice.
What it takes us over 20 hours to produce you can digest in less than 20 minutes.
Money
We save it for you.
Access to academic journals is expensive, or requires enrolment at a university. EDDi gives you access to information that you would otherwise have to pay for.
Note: if you want to access the full articles we link to, you may still have to pay.
Career
Reading EDDi will keep you up-to-date.
Your meetings, conversations with colleagues and discussions with school owners, governors and parents will be research informed. So too will you teaching. Schools are using EDDi to inform professional dialogue and to inspire productive debate.
---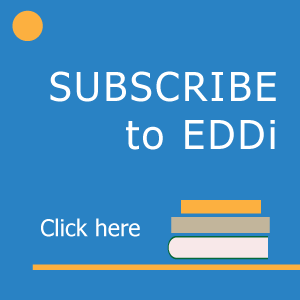 ---

Subscribe to EDDi: Educational Digest International
People
EDDi
A fortnightly digest of peer-reviewed educational research, educational news, and opinion. We save you the time and expense of reading lengthy journals, helping you to make an immediate impact in your school.