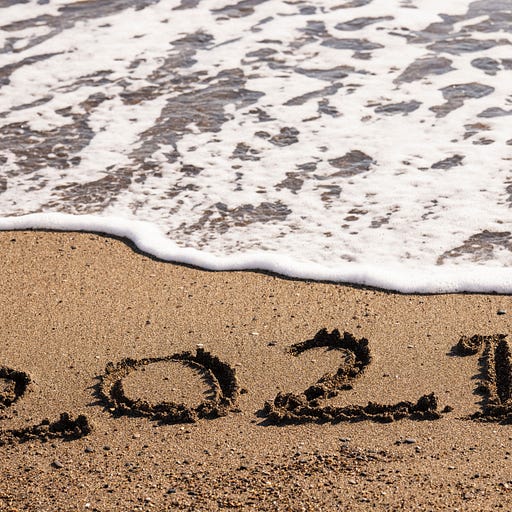 Dec 17, 2021 • 13M
End of Year Review
The Year International Education Crashed
Words: Dr Stephen Whitehead
Audio: Jason Lasky
Have you ever been in a car crash?
If so, then you're likely familiar with that strange feeling you get just before impact.
Part of your brain is telling you to prepare for the worse, while another part of your brain cannot quite take it all in and starts to shut down. The result is a brief moment when the whole world slows down around you.
Research suggests that most of us experience this 'altered passage of time' just prior to an accident.[i]
This is what we international educationalists experienced during 2021; an altered passage of time albeit one extended over 12 months.
We are now crashed.
International schooling may or may not return to the blissful state it was in was prior 2021, but right now we are in the wreckage.
How much wreckage is there? Difficult to tell; but many independent and international schools are not going to survive much longer.
In Thailand, where I live, 70 have closed in the past 12 months and another 100 are on the edge of insolvency. Even the big and famous-name branded international schools are down on enrolments, many by hundreds of students.
I know of at least one major international school development in SE Asia which has been shelved and a growing number of previously profitable international schools struggling onwards but with owners now anxious to sell. Those elite international schools we have seen open this year had committed the investment years back, and so had no choice but to see it through.
But only the very brave, wealthy, and confident would set up such enterprises now.
There are just too many unknowns out there.
All roads no longer lead to China
The biggest unknown remains Covid, now rapidly converting itself into Omicron. The day I started writing this article a China government advisor announced that 'living with Covid-19 is not an option for China' as trying to do so will 'be a major public health, social as well as political problem.'[ii]
Which begs the question, if living with Covid-19 (how quaint that '19' seems now) is not an option for a county like China, ruled with an iron hand by the CCP, then how can it be an option for anywhere else? We're already witnessing increasingly violent pushback against further Covid restrictions, and in countries not known for political unrest, e.g. Belgium, Austria and the Netherlands.
China has responded to the Covid crisis in a very sensible if drastic fashion – it has closed its borders. It looks unlikely to open those borders in 2022.[iii] If you have plans to work in China anytime in the new future, then think carefully about that.
And if you are now in China, working in an international school, then you already know how bad it is: difficulties getting visas, anti-Western sentiment, a government that is 'tightening its grip on international schools' [iv]. I predicted all this in several EDDi Extras (here and here) focusing on China and International Education back in September.
If anything, the situation has since worsened.
One leading UK international school Head in China whom I spoke to confirmed life is getting a lot harder, with Chinese government officials barely acknowledging him when they visit his school – "they now just meet with the Chinese Head".
We can talk about education as a profession, but it is also highly personal.
That UK Head now has to live apart from his family, who are still in the UK. Many other families are similarly torn apart by the restricted visa regulations imposed by the Chinese government. I know a US family where the mum and dad went to Beijing to take up jobs in 2020, but the Chinese government never gave visas to their two young children. Dad eventually flew back to Philadelphia to be with his children while mum stayed in Beijing.
That is not how their international school dream was meant to turn out.
I hear Harrow International (Asia) plans no further new schools in China while Westminster School, another prestigious UK brand hoping to exploit the Chinese market, has pulled out of any involvement in China, abandoning its first school in Chengdu and its plans for a further six institutions.
If you live in Europe or the US, then China may seem a world away, but in truth what happens in China impacts all of us, especially those of us working in international education, whether in schools or universities. For sure, the international school boom is over and while we can lay the blame at Covid, the reality is what happens in China matters a lot. The international school expansion we all witnessed over the past 10-15 years was largely driven by the growth and opening up of the China economy, and the educational demands of the newly enriched and burgeoning Chinese middle classes.
All that is now under threat.
If you want an indication of how bad it is, and not just in relation to Covid, check out Evergrande. Is this Chinese real estate giant 'too big to fail'? [v] We will see. But as the 'world's most indebted real estate developer' the crisis is coming to a head with implications for not just China but the world economy. The company can no longer pay the interest on its US$300 billion debt. In November, the owner Hui Ka Yan, was forced to sell his two private jets and luxury HK properties to make the monthly debt payment.[vi]
While international schooling in China reverts to 'Chinese education', China's universities continue to get stronger. Peking and Tsinghua Universities now appear in the THE Top 25.
And there are lot more coming up behind them.
With anti-Western feelings on the rise among Chinese Gen Z, and the Chinese government 'encouraging' school graduates to apply to Chinese universities, then those Western (UK, USA, Australia) universities which have previously been enriched by Chinese enrolments are now looking at a massive gap in their five-year business plans.
As far as international education is concerned, China can be the stable foundation for growth or it can be the earthquake which brings all the houses down.
Right now, it is an earthquake.
Where Next?
So what else did 2021 tell us about the future direction of international education?
For me, one of the most intriguing developments was the setting up of a second Harrow International School company.
Only this one is in India.
The original Harrow International company (now known as Asia International School Limited – yes, bizarrely, the 'School' is singular) was established in 1998. That operation duly expanded to where it is today; 10 international schools across Asia, including Bangkok, Hong Kong and, due to open in 2022, Appi, Japan.
And then something remarkable happened, in September of this year Harrow School in the UK announced that Amity Education Group have been given licences to establish four new Harrow International schools in India, and one in the USA. The first of these will open in 2023.[vii]
Disregarding how AISL and its Directors feel about this new kid on the block, what it signals is possibly a shift in the international school centre of gravity from China to India. Because just weeks after the Harrow announcement, low and behold, doesn't Wellington College International also announce plans to open in India (in partnership with India's Unison Group).[viii]
It is too early to say whether India will become the 'new China' as far as international school expansion is concerned though one has to acknowledge that one big difference will be language. Indian children (certainly those in middle class Indian families) already speak English in which case there is unlikely to be a massive exodus of such children to international schools in countries like Thailand, Malaysia, Indonesia, or even Singapore and across Europe (it is precisely such an exodus that has made many international schools owners in these countries quite rich over the past decade).
Therefore, my advice to international schools owners in South East and East Asia – don't factor in a big Indian enrolment curve in your business plans.
Of course, one beneficiary of any significant growth in Indian international schooling will be UK universities. Indian middle-class parents are not going to spend lots of rupees on sending their kids to Indian universities – the standard is just too low. Nor are they going to send their little loved ones to China universities – that would be unthinkable.
Which leaves were? Well, actually a good many countries, though I'd bet on UK Higher Education benefiting most.
But what I am suggesting here will not happen overnight. Crashes happen fast, recovery takes a lot longer.
International education has not even begun to recover from this past two years, and the wreckage could even get worse. For example, I have not even mentioned the now inevitably catastrophic impact of climate change, nor the horrible demographics in China and most other countries. [ix]
In short, I see no reason to believe 2022 will be any better than 2021, indeed for many international and independent schools, especially in South East Asia, it will be the end game.
There are changes, however, on the horizon.
I am convinced that international and independent education is going to reinvent itself. What it will look like by the end of this decade will be totally different to what it looks like right now. I have my own vision for international schooling and it doesn't involve fancy, and expensive, buildings.
---
references
[i] https://kids.frontiersin.org/articles/10.3389/frym.2017.00032
[ii] https://www.scmp.com/news/china/science/article/3158635/living-covid-19-not-option-china-government-adviser-says
[iii] https://www.economist.com/the-world-ahead/2021/11/08/china-is-unlikely-to-re-open-its-borders-in-2022
[iv] https://www.scmp.com/economy/china-economy/article/3158333/chinas-middle-class-families-fret-president-xi-jinping
[v]  https://www.bbc.com/news/business-58579833
[vi] https://www.businessinsider.com/evergrande-private-jets-50-million-debt-china-property-crisis-2021-11
[vii] https://www.ndtv.com/education/four-new-harrow-international-schools-be-set-up-india
[viii] https://www.hindustantimes.com/education/news/uks-wellington-college-international-to-open-schools-in-india-101632827506950.html
[ix] https://www.bbc.com/news/health-53409521
---
INTERESTED IN INTERNATIONAL SCHOOLING?
The Teacher's Guide is getting around!
Seen here in Bali, enjoying its 'dream life' by the readers pool. Yes, you too can have a house with a pool! Grab a copy to take on your own adventure or listen to a short sample here (4 mins).
---